Solister
---
Den internationellt uppmärksammade munspelaren Filip Jers (f. 1986) har kallats "The Swedish Harmonica Sensation" av musikkritikerna i Europa. Filip Jers spelar alla sorters munspel; från det känslosamma kromatiska munspelet, det jordnära bluesmunspelet och det mystiska basmunspelet. Han spelar även mungiga, gitarr och dragspel.
Filip Jers har ett brett musikaliskt spektrum och han rör sig lätt mellan olika genrer; jazz, blues, folk, världsmusik, country, pop, rock, klassisk- och filmmusik.
Filip älskar att improvisera och komponera musik, han skriver själv musik för många av de grupper han medverkar i; det internationella världsmusikbandet Stockholm Lisboa Project, jazzkvartetten Filip Jers Kvartett och jazz/folktrion Primus Motor.
18 år gammal blev Filip dubbel världsmästare på munspel vid Hohner World Harmonica Championships i Trossingen, sydvästra Tyskland. Sedans dess har han turnerat i totalt 17 olika
länder bl.a Sverige, Tyskland, Österrike, Frankrike, Spanien, England, Portugal, Kanada, Rumänien, Kroatien, Finland, Estland och Holland.

---
---
Rickard Söderberg studerade vid OperaAkademiet i Köpenhamn, där hans lärare var Kirsten Buhl Möller, Tonny Landy, Anthony Rolfe Johnsson och Fiona McSherry. Han har även deltagit i master classes för bland andra Birgit Nilsson. Redan under sin studietid framträdde han i roller som Don Ottavio i Don Giovanni och Egeo i Cavallis Giasone. Rickard Söderberg har gjort en rad roller i barock- och Mozartoperor under ledning av bland andra Christophe Rousset och Olof Boman. Han har sjungit Oronte i Alcina, Lurcanio i Ariodante, titelrollerna i Monteverdis L'Orfeo, J. C. Bachs Temistocle och Mozarts Idomeneo, Ritornello i Grassman's L'Opera Seria, Tamino i Trollflöjten vid operahus i Leipzig, Toulouse, Köpenhamn och Drottningsholms Slottsteater.
År 2006 belönades Rickard Söderberg med Svenska Wagnersällskapets stipendium som ett resultat att han framgångsrikt lagt tyngre roller till sin repertoar, såsom Steuerman och Erik i Den flygande Holländaren, samt Balzar Horn i Mästersångarna i Nürnberg. Han har framträtt som Don José i Carmen, Lenskij i Eugen Onegin och Eisenstein i Läderlappen. Under 2008 sjöng han Siegfried i Guldringen på Kungliga Operan i Stockholm. Sedan säsongen 2009/2010 har Rickard Söderberg varit knuten till Malmö Opera där han framträtt i roller som Sellem i Rucklarens väg, Chevalier de la Force i Karmelitersystrarna, Goro i Madame Butterfly, Max Westleton/Clem i Brittens Vi gör en opera!/Den lille sotarpojken, Greve Cornwall i Aribert Reimann's Lear och Valzacchi i Rosenkavaljeren. Han medverkade som Loge i Rhenguldet i Wermland Operas hyllade produktion av Nibelungens Ring. Säsongen 2011/2012 innefattade bland annat titelrollen i Mozarts Idomeneo på konsertturné med Malmö Opera och under sommaren 2012 sjöng Rickard Söderberg titelrollen i Haydns Orlando Paladino på Drottningholms Slottsteater.
Med ett starkt musikaliskt uttryck och en karismatisk scenpersonlighet är Rickard Söderberg en uppskattad konsertsolist och framträder i verk som Händels Messias och Saul, Beethovens Missa Solemnis, Bachs Juloratorium, Mozarts Requiem och C-mollmässa, Haydns Skapelsen liksom i Puccinis Messa di Gloria, Saint-Saëns Requiem och Gounods Mors et vita.
Rickard Söderberg är även en engagerad bloggare och samhällsdebattör. Under hösten 2013 har han nått ut till en bredare publik genom sin medverkan i Körslaget på TV4 och han har även medverkat i Let's Dance på samma kanal. Han har även medverkat i musikalen Doktor Zjivago på Malmö Opera och tävlat i Melodifestivalen med en duett tillsammans med musikalartisten Elize Ryd.
Rickard Söderberg är denna säsong aktuell med en längre julturné med Arja Saijonmaa och under våren medverkar han i Malmö Operas uppsättning av Blomdahls opera Aniara. Utöver sina många konsertengagemang är Rickard en mycket uppskattad föreläsare. Rickard leder även radioprogrammet Operahuset i Sveriges Radio P2.
Under 2008 utkom Rickard Söderberg med CD:n The Perfect Man och året efter med Castrato arias. Han har även givit ut samlings CD:n Gaytenor, samt CD:n Tack med tre sånger dedikerade till Rickards mamma. Vintern 2016 släpptes Rickards julskiva Make The Yuletide Gay.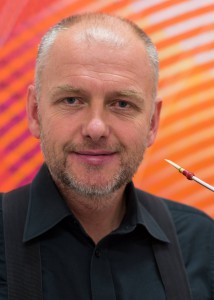 Magnus Nilsson is principal bassoonist and soloist with the Helsingborg Symphony Orchestra since 1987. His hometown is Gothenburg, Sweden where he also studied the bassoon with Arne Nilsson at the Music Academy, followed by studies with Asger Svendsen, Marco Costantini (Rome) and Bernard Garfield (Philadelphia). At the age of 19 Magnus was appointed bassoonist with the Norrköping Symphony Orchestra. In 1985 he was second prize winner of the Bassoon Competition of the International Double Reed Society (IDRS), Boulder. Magnus is founding member of Trio Altaïr, Pollux Wind Quintet and Trio Anassa (oboe, bassoon, piano). CD recordings with Trio Altaïr and Pollux Wind Quintet.
In 2006 Magnus world premiered the bassoon concerto Auroral Dances by the Swedish composer Albert Schnelzer together with the Fort Wayne Philharmonic, USA. Magnus was repeatedly invited to Seoul for Masterclasses at the South Korean Bassoon Summer Camp which he led in 2007, 2009 and 2013. Performances with the Accademia Neue Musik Bolzano, Italy in 2009. Magnus was invited as one of several soloists at the 1st International Bassoon Festival in Beijing held in 2009 and the 2nd festival in 2012 where he performed with the Universal Bassoon Ensemble alongside with the renown bassoon soloists Valeri Popov, Stefano Canuti, Kim Walker, Holger Schinköthe and Fábio Cury. Masterclass och recital at the International Orchestral Woodwind Encounter of the Conservatory Tatui, Brazil in 2010. Magnus' solo appearances abroad in 2013 include invitations to the North Italian Bolzano where he was featured guest at the "Monteverdi Oboe Festival Bolzano", to Redlands, California with recital and performance of Adagio Liquido for bassoon, oboe and orchestra by Arnaldo de Felice, presented at the IDRS convention and to Portugal where he gave a Masterclass and a solo performance with the ensemble Palhetes Dublas at the Lisbon Double Reed Symposium.
Magnus founded and acts as artistic director of the concert serie Musik på Bosjökloster since 2009, taking place in a historical monastry/castle in the southswedish countryside. Three years ago he founded Nordic Woodwind Encounter, arranging annual international woodwind masterclasses in the south of Sweden, whose artistic director Magnus is.
Further forthcoming engagements in 2014: Magnus is invited as soloist for a concert tour in Sweden and Poland together with the Royal Krakow Academic Orchestra, to perform at the Tchaikowsky Music Conservatory in Moscow later this autumn and to lead a Masterclass and perform in Mar del Plata, Argentina. The world premiere of Arnaldo de Felice's Musica Concertante for bassoon, oboe and orchestra is scheduled during the orchestral season 2015/16 of Helsingborg Symphony Orchestra.
---
Lärare och pianist på Musikhögskolan i Malmö
---
Per Johansson, klarinett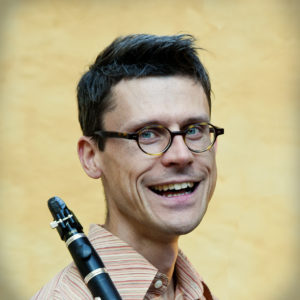 Per Johansson är född i Åmål. Efter förberedande studier vid musikkonservatoriet i Falun studerade han i fyra år för professor Sölve Kingstedt på musikerlinjen vid Musikhögskolan i Stockholm. Därefter följde tre års studier för professor Hans Deinzer på diplomlinjen vid Högskolan för Musik och Teater i Hannover, Tyskland. Per har deltagit i mästarkurser för Michel Lethiec, Antony Pay, Giora Feidman och Karl Leister.
Sedan 1997 är per soloklarinettist i Helsingborgs Symfoniorkester. 2004 och 2006 gjorde Per bejublade soloframträdanden på bassettklarinett i Mozarts klarinettkonsert tillsammans med Helsingborgs Symfoniorkester under Hannu Lintu respektive Andrew Parotts ledning.
Vid sidan av sitt arbete i HSO är Per en aktiv kammarmusiker, han är bland annat medlem i blåsarkvintetten Pollux, Trio Altaïr och essens:1. Den sistnämnda är en duo tillsammans med violinisten Ian Peaston där de korsar alla genregränser och utforskar de nya klangvärldar man kan nå med el-fiol, el-klarinett och två datorer.


---
Staffan Mårtensson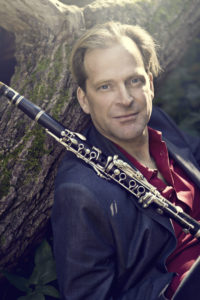 "Staffan Mårtensson has gold in his clarinet" (Expressen). "His playing is powerful, yet wonderfully sensitive" (Svenska Dagbladet). These are words from leading Swedish newspapers, describing the artistry of one of Scandinavia's most versatile clarinetists.
Swedish clarinetist Staffan Mårtensson's solo repertoire ranges from classical and romantic masterpieces to dazzling contemporary works. Staffan has performed since the early 1990's with German, French, Swiss, Dutch, Czech and Scandinavian orchestras. His love for chamber music is essential to his musicianship; he performs regularly at Swedish and international chamber music festivals. In recent years he has returned to his jazz roots and is often heard on the Swedish jazz scene. His daily work circles around the Royal Swedish Opera, where he is Principal Clarinet since 2001.
His education includes studies at the Royal College of Music in Stockholm with Sölve Kingstedt, at the Rotterdam Conservatory with Walter Boeykens and at the Banff Centre for the Arts, Canada. In 1990 he was the winner of a national soloist competition organized by the National Swedish State Concert Agency. The same year he won second prize at the Tromp Muziek Concours in Eindhoven, The Netherlands.
Staffan has given master-classes in major academies and colleges in Germany, France, Russia, the Czech Republic, Estonia and Ukraine. Collaborations with composers such as Sven-David Sandström, Karin Bartosch-Edström, Jonas Forssell (Sweden), Atli Ingólfsson (Iceland) and Roland Freisitzer (Austria) have resulted in premieres of numerous works.
A prominent recording artist, Staffan Mårtensson won a Swedish Grammy 2006 in the category Classical Soloist of the Year, with the CD Clarinetto con forza, which was also nominated for the Cannes/MIDEM in 2007. His discography of about a dozen CD's includes works by Mozart, Copland, Brahms, Schumann as well as contemporary Swedish and international composers and experimental jazz.
Staffan's unceasing creative energy also goes into festival organising. He is the artistic director of the prestigious Summer Night Concerts at the Nationalmuseum of Stockholm and the Östergötland Music Days.


Pollux Blåsarkvartett
Nico Benadie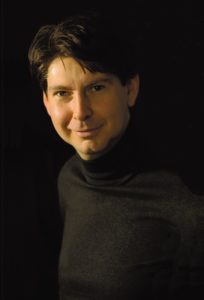 The South African pianist Nico Benadie has performed in his native country as well as in France, Italy, Spain, Luxembourg, Belgium, Sweden, Norway and in Germany, where he currently resides. Some of the Festivals at which he has appeared include the "Kammermusikpodium Braunschweig", the "Ludwigsburger Schlossfestspielen", the "Hessischer Kultursommer", "pianorama" in Florence, "Primavera" in Savona, and "PianoSolo" in Salerno (Italy) and "Musik i Syd" in Sweden. Several of his performances were broadcast live on Swedish Radio, Deutschlandfunk, Norddeutscher Rundfunk and on South African Radio and TV.
After studying Piano, Piano Chamber Music and Musicology at the Universities of Natal and Durban-Westville, Nico lectured in Piano and Music Theory at both institutions. He continued his studies at the "Hochschule für Musik und Theater Hannover" in Germany with Prof. Bernd Goetzke and attended master classes with Arie Vardi, Leonard Hokanson, Rudolf Jansen and Irwin Gage. He also had the opportunity to work on compositions of George Crumb and Sofia Gubaidulina with the composers themselves.
Nico has given master classes for piano and chamber music in Germany, Italy and Spain. Several of his piano students have won prizes at regional and national competitions in Germany. He is also the founder and artistic director of the pianistic concert series "Internationale Konzerte im Stift Obernkirchen" in Germany.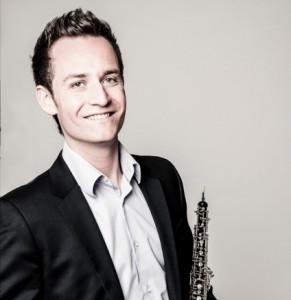 Oboe tutor at the University of Music Maastricht and Rotterdam and Solo English hornist and oboist with the Hamburg State Philharmonic Orchestra
Ralph van Daal was born in 1984 in Roermond, The Netherlands, where he began playing Oboe at the age of nine. At 17, he began his studies at the Music College of Maastricht (the Netherlands), with Peter Steyvers (oboe) and Mya Besselink (voice), graduating with Honours in 2006. He then began three years of study with Prof. Francois Leleux at the University for Music and Theatre in Munich, earning a Soloist Diploma in 2009. Following graduation, Ralph van Daal held temporary contracts with the WDR Symphony Orchestra in Cologne and the Duisburg Philharmonic. In 2011, he won the position of Solo English Horn with the Hamburg Philharmonic and was awarded the Eduard Söring-Preis, a prize awarded by the orchestra's director, Simone Young, to support the artistic development of young musicians.
Ralph van Daal is regularly engaged as a substitute (Solo Oboe and Solo English Horn) with the Swedish Radio Symphony in Stockholm, the City of Birmingham Symphony, the State Opera of Hannover, NDR Hannover,NDR Sinfonieorchester of Hamburg and the Hilversum Radio Symphony Orchestra. He has played under the direction of such conductors as Michael Tilson Thomas, Semyon Bychkov, Jukka Pekka Saraste, Andris Nelsons, Kent Nagano and Ivan Fischer.
Ralph van Daal frequently gives master classes in Germany, Spain and the Netherlands. He is also a member of various wind ensembles of the Hamburg Philharmonic. Ralph van Daal is tutor for Oboe at the Universities of Music Maastricht and Rotterdam.